Further surveys
Over 20 years of evaluation experience
In more than 20 years, we have been able to gather extensive evaluation experience that goes far beyond classic course evaluation. In terms of content and technology, we can draw on a broad repertoire of instruments and survey forms. Paper-based surveys and online surveys are as much a part of our competence profile as data analysis, reporting and presentation of the results.
Individual surveys
A standardised survey is not always the appropriate way to conduct a survey. Based on the objective of the survey, the specific information interests of the participants and the intended use of the data and results, it is important to develop an individual concept for the upcoming survey. Such a concept includes a concretely tailored survey instrument and a survey method that is coordinated with it.
Whether for the respective project
an online survey,
a survey with printed questionnaires on paper
or interviews
are the optimal approach is not clear from the outset. By having the full range of survey methods available, we can recommend the best approach in each case.
We are happy to offer you a solution, even if you only need our support in partial steps: We analyse data that is already available, conduct a survey that you have already designed, or advise you on optimising a form of survey that you regularly conduct on your own.
We have successfully carried out numerous evaluation projects in recent years. If resources permit, we would be happy to support you in your survey project. If you are interested in a survey or would like to evaluate with our support, please contact us.
Anja Vetterlein, Dr
Graduate Psychologist (Diplom-Psychologin)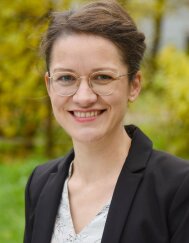 Institutsgebäude (Haus 1), Room 211
Am Steiger 3
07743 Jena